Winter in Moc Chau plateau
2015-10-29T23:54:23-04:00
2015-10-29T23:54:23-04:00
http://houaphanhtourism.com/en/news/moc-chau-tourism/Winter-in-Moc-Chau-plateau-136.html
/themes/fantasticity/images/no_image.gif
Houaphanh Tourism
http://houaphanhtourism.com/uploads/logo_on_blue-300x300.png
Coming to Moc Chau Plateau in October- November every year, visitors will be golden flowers of wild sunflowers bloom along the two sides of the road where enchanting. Wild sunflowers are usually bloom in late Autumn and early winter (October- November). With indigenous peoples, this is a tree species signaling the arrival of dry season, when flowers bloom wild sunflowers mean dry season came to very near.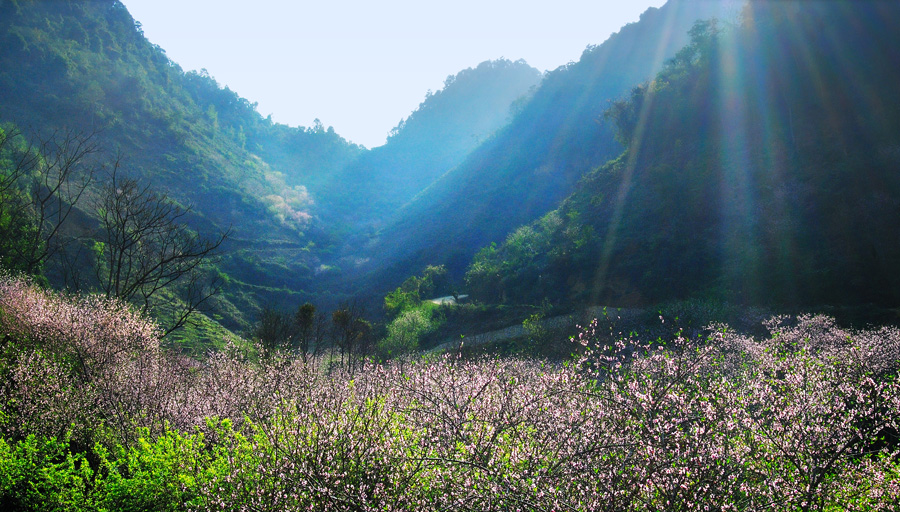 Moc Chau winter beginning, just blooming wild sunflowers yellow interspersed with red poinsettia. Wild sunflowers although not as large as the sunflower but due clumped together to the boom has created a brilliant yellow carpet. The most beautiful wild sunflowers in the morning, when the sun has just hung up the winter, fog still lingered on the leaves and petals.
Annually, kept coming 11-12 months, when the sweet cold on each forest, mountains northwest, as well as improvements at the plants bloom white dye the mountains. Guests to invite each of Moc Chau, Son La contemplate the immense wealth of flowers stretches, prominent white ties improved, improved gold on a blue background of the mountains northwest.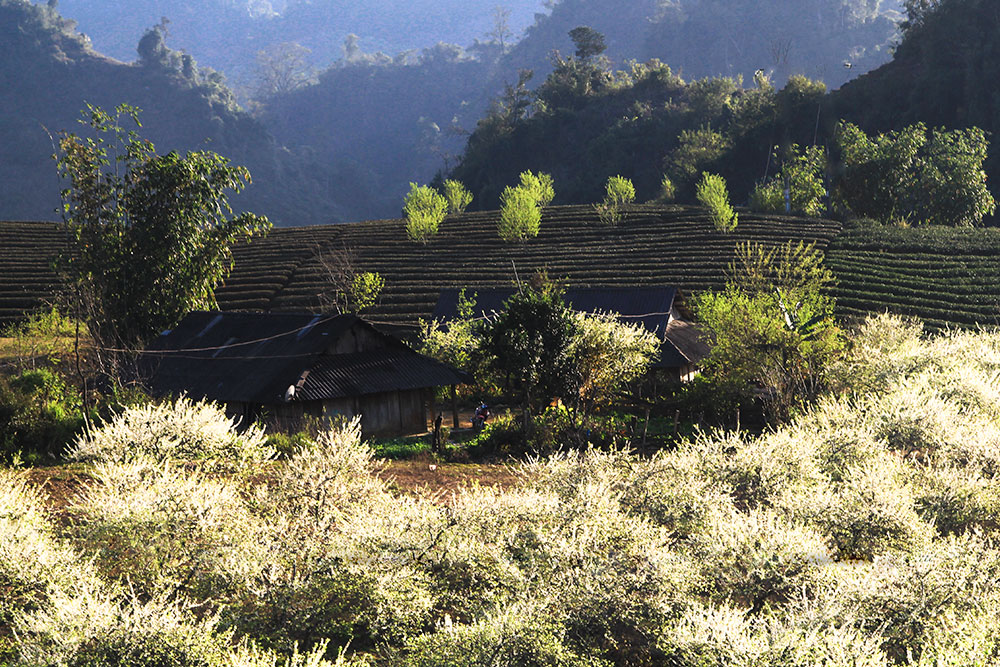 The white blossoms of plum blossoming hillsides, foothills along the misty clouds in the early sun makes the Moc Chau Plateau (Son La) untouched beautiful as a painting.
Cuisine, the traditional ethnic dishes:Hot pot:
is everywhere equally, but in Moc Chau may find some dishes to try: chicken hot pot, hot pot buffalo, especially dairy calve pot. Still the steaming pot, warm spicy hot, but the soft sweetness of veal, crispy attractive female calf would please neither can compete. That happiness is to be eaten sliced veal to half matchbox type, not sliced tang as in the city, the meat cooked outside but still slightly pink inside, very sweet.
Wine:
A specialty of land northwest, it has become its own culture of mountain people. In cold day meal, if not outrageous, barely drink a cup of wine will help you eat more delicious. It also helps tighten the emotional stuff, by mountain people continue to drink finished firm handshake. Moc Chau has always had a lot of wine to choose from: plum wine, cider cat, banana liquor, including wine imported from Laos about, but is still probably the most special of corn liquor. There are also many wines corn: people cook manually type, kind of French cooking technology (HTX 19-5) ... cooked with type yeast leaf, brewed and distilled using water (Moc Sa) currently Moc Chau people and the popular wine connoisseur travelers.
- In the cold of Moc Chau, the cup of corn that are enjoying salmon pot steaming and forest vegetables dewy must carry another will get an unforgettable impression.
-
Nam
Pia:
is one of the top dishes of "horror" visitors often have shut their nose to try this dish. Materials to create nam Pia including clotting blood, cartilage, tails, meat, silver band, heart, stomach, liver and small instestine sections that contain premature feces of cows or goats. Dish when brought out quite characteristic ordor and listening to the indredients make visitors nose shook their head. When eating has a bitter taste then has sweetness but want to eat more.
- Cham Cheo - spices of Thai Northwest
: Cham Cheo is familiar sauce in Thai meal Northwest, used to eat with dishes like sticky rice, bamboo shoots, vegetables, fish ... Cham Cheo is essentially synthetic spices created from materials such familiar salt, MSG, garlic, fresh chilies, fresh garlic leaves , fresh lime leaves, coriander leaf and a ship ... an indispensable raw material is getting compliments and kind of fellow forest pepper Thai (Mac Khen as wild plants under them back, with oil and scent, spicy fruit concentration). The ingredients are grilled over charcoal until a distinct aroma, chopped, crushed, mixed well, we will be "cheo". In fact, the "cham" in Thai is the sauce, "cheo" is what is made from the raw material on, to have a bowl of sauce "occipital crossover" It just needs a little more sauce on the "cheo" the medium wedge food is okay.
Source: MANAGEMENT BOARD OF MOC CHAU TOURISM ZONE
Note: The above article reprinted at the website or other media sources not specify the source https://mocchautourism.com is copyright infringement
Newer articles
Older articles