Spring on Moc Chau Plateau associated with the festival, the ethnic's traditional culture, cuisine, produce, souvenirs, tourism services.
2015-09-30T23:01:19-04:00
2015-09-30T23:01:19-04:00
http://houaphanhtourism.com/en/news/moc-chau-tourism/Spring-on-Moc-Chau-Plateau-associated-with-the-festival-the-ethnic-s-traditional-culture-cuisine-produce-souvenirs-tourism-services-132.html
http://houaphanhtourism.com/uploads/news/2014_02/dao-moc-chau-14.jpg
Houaphanh Tourism
http://houaphanhtourism.com/uploads/logo_on_blue-300x300.png
Moc Chau Plateau is located at the gateway the North West region, only 180 km from Hanoi along National Highway 6. It is known for its many visitors by dreamlike natural scenery: wide open spaces, fresh and cool climate, concentrate on strong convergence of nature: vasty grasslands, tea hills stretching, valleys and fields of white, yellow cauliflower flowers, pine - hills, mountain slopes brilliant by many flowers: plum apricot, peach, Ban, wild yellow daisy, poinsettias flowers, ... blended with the plenty, diversity cultural of the 12 ethnic groups. All constitute of a Moc Chau travel overview picture has more vitality, creating a unique imprint, interesting difference.
1. The natural scenery:
Spring on Moc Chau plateau, in the slightly cold weather, spring rain fly, scenery and trees seem to be put on the mantle-new, young plumular emerge to a lush racing. On the occasion Lunar New Year, from the last of November until the end of December, the mountains, hills be colored whitening blossom by a apricot, plum flowers, brilliant pink peach blossoms. The area concentrate on, plums are: along to route line go into five caves On village, Tan Lap communes, forest peach has the most in Ba Khen, Long Luong, Van Ho communes. The most beautiful is the road to go into Tan Lap, Na Ka valley, roadside white plum blossom.
In March, the Ban flowers season are blooming white mountains, the area most beautiful to watch the flowers: crossroads (near the top of the downhill 75) intersection between paths Son La, Ha Noi, and Nong Truong Moc Chau Town; stations broadcast information (near the martyrs' Moc Chau district); near the center of Chieng Hac communes. Ban flowers beautiful and associated with Thai's ethnic life such as: festival season, typical dishes, the legend of the faithful in love couples.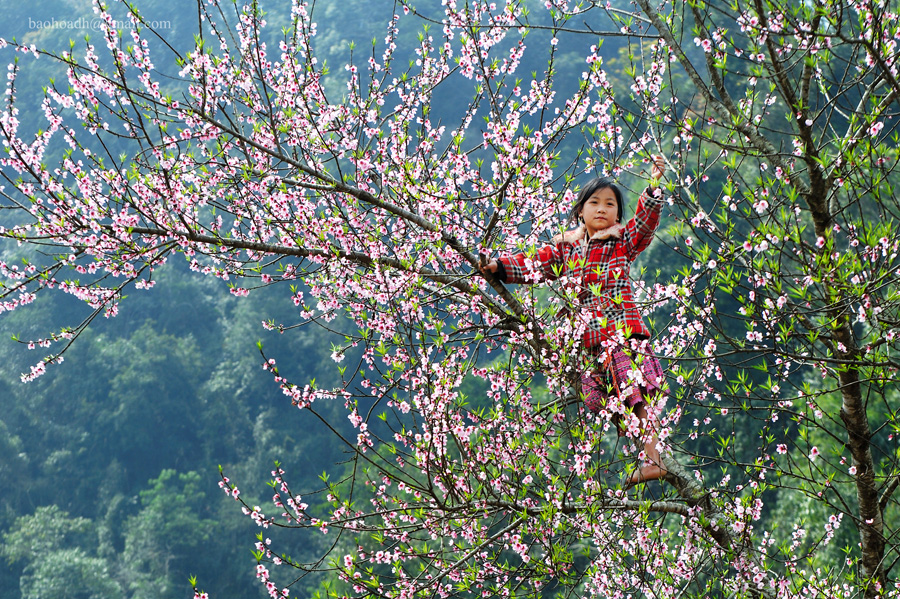 2. Traditional festival of national culture, folk games:- Hmong Ethnic New Year:
Traditional New Year begins 1
st
December lunar and lasted until the end of the month. The H'mong to prepare for the New Year very carefully, women to complete perfect embroider on new dresses for adults, children. Men are busy going shopping to prepared hearty meals for the family. H'mong's customs in New Year there are many identities, unique as: paid for the instruments labor by posting yellow paper money and put on the altar, and paste into the paper money other indoor location as: column houses, doors, furnaces, stairs,... together with many customs and taboos such as: morning on 1st man has to get up early for pigs, cattle eat, and prepare meals without called up women, do not pour water into the house, not blow on fire, do not spend money, do not give anyone or ask anyone anything, do not cleanup waste, do not shampooing, do not eat rice with soup, ... All of that it show the desire for a good harvest, family prosperity, healthy.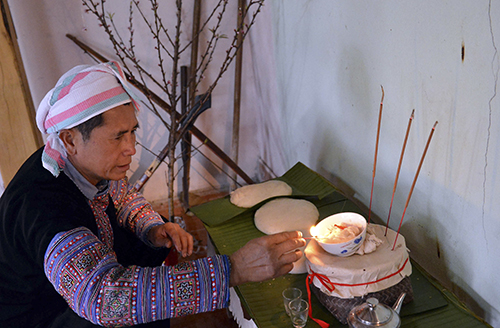 - Praying rain Festival of white Thai Ethnic:
Fastival usually held on 15-2 lunar annual of white Thai ethnic in Moc Chau, Son La. Location celebrate to ceremony where is often a wide beach at the top of the village, up a tree bamboo is decorated by: birds, cicada knitted by wicker bamboo, small cages is put s eggs, shells inside. The worship ceremony begins at sunrise in battered water and request to carry water up around the Neu tree. After finishing the praying of shaman, he will declare the water distribution, walk around as well as splash on all those who to attend to wish a year of good weather, good harvest. End of the praying rain festival, the villagers together to sing, dance and play the game traditional folk.
- Het Cha Festival - Culture spirit of white Thai in Moc Chau:
Het Cha Festival (the end of Ban flower blooming), usually takes place from 23-26/3 annually. This is an opportunity everybody thanks of earth, father, reformatories, wish universe for harmony, proliferate, living in peace and happiness, good weather, bumper harvest, people happy and wealthy. The festival also expressed a sense unite Thai ethnic community, together entered the new crops season and from here has a lot of charming couple fall in love, and married couple.
- Description of the traditional folk games festival of spring:+ Con ball throwing game:
As boys and girls the opportunity to kiss dating, fun people to interact. In a ground with, raise up a tree from 9-15m, mounted atop a tree outlined circle about 50cm in diameter, thin paper one side yellow red side represents the yin and yang. Results are released to symbolize all that bad luck will shake off and replaced by the prosperous and happy. Hit the ring and pierced the paper is yin and yang harmony, prosperous life, bumper harvests.
+ To Mak Le game:
This is a popular game for all ages, requires intelligence, ingenuity and experience. Players can stand or sit at the starting line, the right leg is folded, placing Mak Le fruit (one forest fruit) on above the knee, thumb finger of the right hand buffer to shoot, index finger of the left hand is used to turn right thumb for shooting the fruit at the finish line by 2-2,5m far way so that one of those fruit shed or fly into a certain mold. The winer is the one who shoot the fruit farest.
+
Walking on sticks:
This is a traditonal folk game of Thai ethnic. Sticks are made of old bamboo which have height or low depending on the player, on which tie a notch as pedal for standing and walking to go instead of your legs. When walking, place your two feets on the notch, two hands keep on the sticks, walk step by step. This is a game often played in the holidays, fastival, carnivals.
+ Pao ball throwing game:
Pao ball are cleverly made from pieces of colored rags by H'mong girls. When playing, the player is divided into two sides, separated from 5-7m away, the ingenuity of people throwing Pao ball is not to let the ball fall to the ground. They continue throwing until catching the Pao ball with close your eyes. Whatever your age can also play throw Pao that also known as Pao do not have the age. More specifically, the Pao ball is which to give love, because if H'mong boys like any girls, he will keep Pao ball of that girl.
+ Dragon incubation game:
As folk games of H'mong ethnic and only for men. The game represents health, agility, intelligence, toughness of both the robber and egg keeper. The eggs are pebbles with the size of egg. When playing, the player incubation egg have a task of keeping the eggs in a circle within a diameter of 2 m, the robber eggs who stand in the circle of 5m diameter and trying to get eggs. If the robber eggs hit or touch any part of the body, he will be removed from the game.
+ Playing spindle game:
Collection of spindle (Cu) include of 2m long rope fixed to one end of a 0.5m length small wood and spindle is carved as shaped warhead made of hardwood, heavy (usually merati wood). Group player are divided into two teams play unlimited players. Team 1 will drop spindle, team 2 will stand at the painted lines marked, seeking to throw the hit and spill other team that is going to win. Mixing in praise of boisterous spring, the bell silver flowers on colorful costumes, loud and cheer throughout the mountains that visitors will not remember to forget.
+ Dau Pao game:
A game of woman H'mong, requires endurance, dexterity and accuracy. Players split into two teams of 6-9 people, stadium size 12x8m (10x6m), the nets was stretched with ropes, similar rules as well as volleyball, two teams will throw over throw back, any team make Pao falling to the ground, or thrown out, up or down two parts nets were counted as lost 1 point, each round is 15 points. In the pretty colorful dress and skirt, joining games enthusiastic, excited with screams and cheers feel to all boisterous atmosphere of spring festival of ethnic people in beautiful plateau place.
3. Cuisine, the traditional national dish:
In the early spring, bustling atmosphere of Khen sound, steeped in the scene t of H' mong ethnic in the sparkling beautiful colorful clothes, join into ethnic people's Tet festival and enjoy the food ethnic traditions dish.
That's great is the result of the memorable experience of visitors:
- Meat hanging on the kitchen:
Meat of buffalo, cow, pig hanging on the kitchen. This is a famous specialty dish of Thai black ethnic. Mixed, marinated with cooking spices such as: ginger, garlic, lemon grass, chili peppers, black pepper, Mak khen (a type of forest pepper of ethnic minority Northwestern highlands) and bring smoked upstairs kitchen. When serving, visitors will feel the smell characteristic taste of the mountains, each dried flesh without ragging, stripped strand, put in your mouth and enjoy apparent sweetness and taste delicious, enjoying once so remember not to forget. Sausage and meat hanging upstairs kitchen is unique, it is the same sausage inside Europe, but the spices characteristic mountains.
- Five colours stick rice (Love stick rice):
As typical sticky rice of Thai ethnic. Selecting the type of glutinous delicious rice, and then soaking into water of "Khau Cam" leaves to make different colors: white, purple, red, yellow, green symbolizes of yin and yang, elements solidarity the ethnic groups. Five colours stick rice attracts tourists by special taste as fragrant, colorful, aromatic, mixture of colors, the smell of leaves is extremely impressive.
- Glutinous rice dumpling (Day cake):
Type cake bring ritual worship, spiritual without on the altar of the H'mong family in Moc Chau in every Lunar New Year comes. The Day cake symbolizes the moon, the sun – as a place of origin that humans and universe, symbol of love, true love of H'mong boys and girls. The main material is flexible and fragrant, flexible supple stick rice, rice soak for 12 hours and pour into a steamer made of good so that cooked rice do not lose shifting fragrant of sticky rice. Then, pour in the mortar to pound carefully. It requires a lot of effort and patience and the more pound carefully, the more fragrant and keeping in good so long. Can enjoy immediately, grilled over hot charcoal, or fried with small pork, grilled fish, buffalo meat, ... the result is amazing.
- Lam rice:
Made from delicious glutinous rice, soaked with coconut milk, the non-leaf nodes again leaves, and added to each bamboo tube, put up burning stove until the scorched shell tube. Then, the tube will be splited, leaving just only a thin silk layers to tight white rice pieces, a little salty flavor, a flavor of forest and smokes to make extremely impressive flavor. Enjoying Lam rice is tasty, fragrant flavor together with sesame salt, cham cheo or smoked pork feel deeply elite cuisine of ethnic Thai in Northwest in general and in particular Moc Chau.
- Fold grilled fish (Pa Pinh Top):
Fish is opened along the spine surgery, and fit with spices: lemon grass, ginger, mac khen seed (a forest peppers), herb vegetables... Then, fish is folded horizontally, grilled over hot charcoals. The most natural way to enjoy this fish food is removed manually fish by hand, eat with sticky rice, Lam rice. This is the typical famous dishes of cuisine Thai ethnic people that you can not ignore.
- Sour meat:
Salt and sour pork dish is a unique tradition of Dao people. Ingredients include: pork lean only three or even all the fat, salt crystals and cooled rice. Pork cut into pieces about 0.5 kg and then use a sharp knife into the thickest part ways 2 - 3 cm, to avoid breaking the packaging section, seasoned with plenty of salt, and mix with a little cold rice and bring neatly into jars, wedged tightly, on the same die, add a thick layer of cold rice and hands wedged tightly. On the mouth jars lining adds a layer of clean straw, using to leaves seal up outsite and upturned up a basket filled ash, so during the meat fermenting tomato, water and fat from meat will flow back to seep into ash, meat will not be rotten. The taste flavor of salted meat perennial long day, dark salty of salt, sweet taste of meat, acid tasty of fermenter long days with green guise leaves blend into one unforgettable taste, eat once also makes people remember forever.
- The feature dishes Ban flower season:
The elaborately and meticulousness during to process can be summarized as follows: the Ban flowers picked on, picked off pental and pistil washed gently and dip fast in hot water. Let's little dry, be crumpled and mixed minced meat, stuffed spices into fish, stir-fried with bitter bamboo shoot, cooked minced meat and stick rice flour soup; or steamed other forest vegetables, salad ... More interesting to enjoy with the crispy the petals, sweet and refresh taste, blended with other ingredients to create a perfect cuisine that makes visitors were once enjoyed, it is impossible to forget.
4. The material, souvenirs, shopping service location:- Moc Chau Peach:
There are many types: French, America peach, newly input Moc Chau, features as: fruit shell is smooth, yellow fragrant inside and crispy, time of blooming flower began in late winter and until Lunar New Year, the fruit harvest after Tet. When we mention of Moc Chau peach, can not forget the beauty of Meo peach, thick wings, bright red pink, Meo peach fruit also very special both large and plump fruit, red flesh, easy removed seeds, crispy and slightly sour put into chili salt or cham cheo so great delicious. It is a special attractive gift for tourists.
- Hau plum:
Plum season begins in early March with plum fruits of soon season have more slightly sour and acrid bitter, in April, May to start ripening, dark red, fragrant and sweet and sour blend extremely tasty. Hau plum is not only delicious fruit, but also good for health with much vitamin and plum fruit can be processed into many different specialties such as: plum jam, Omai plum, plum wine, dried plums....Which become the preferred gift to visitor when coming to Moc Chau.
- Forest orchid flower:
Spring is the season of blooming brilliant forest orchids, flowers branch hold ones the trunk which was taken from forest by villagers, characteristics of natural forests flower are healthy life without care too much, blooming flower's fresh longer, lasting color, so it will be a gift souvenir bring the mountain flavors.
- Where to buy:
along Highway 6, distance from top slope 75 to Van Ho go down towards Hanoi, two roadside along ethnic people and Moc Chau specialty, produce shop are sold peaches, plums, orchids at reasonable prices.
Source: MANAGEMENT BOARD OF MOC CHAU TOURISM ZONE
Note: The above article reprinted at the website or other media sources not specify the source https://mocchautourism.com is copyright infringement
Newer articles
Older articles